Angus Tour
2017 Colorado Angus Association Banquet and Tour
Well, friends, sometimes things happen. And this time, they happened to us. For a variety of reasons, we are moving the venue for the Annual Meeting from Ft Morgan to Greeley. The good news is that we have a really nice meeting room at the Weld County Fairgrounds, Island Grove Park, 501 N 14th Ave, Greeley 80631. The diagram below should help you find our room, which is Conference Room C.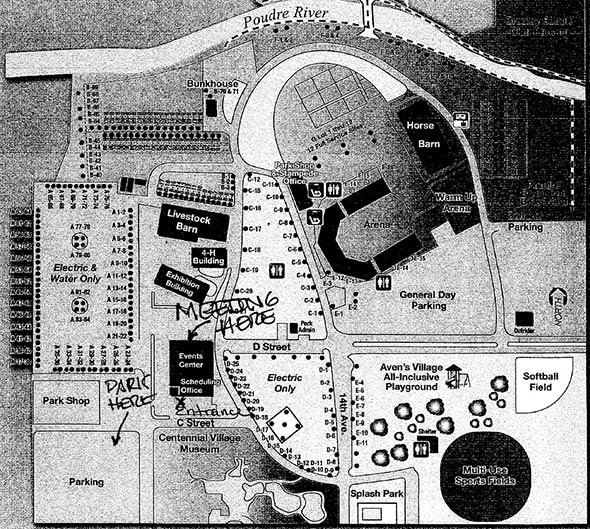 We plan to start the evening with a social hour (Cash Bar) beginning at 5:00 pm. Dinner will follow at 6:00 pm, and the Business Meeting right after that. Kelli Retalick from the American Angus Assoc will be our keynote speaker, and we will also have an update on CCA from Todd Inglee, current President.
We have reserved a Block of rooms at the Clarion hotel, (970-353-8444). Tell them that you're with CAA for the rate of $79 plus tax. Here are names and numbers of a few other hotels in the Greeley area, in case the Clarion doesn't work for you:
Fairfield Inn and Suites, 970-339-5030
Holiday Inn Express, 970-330-7495
Candlewood Suites, 970-330-2333
The gathering place for the tour will be the parking lot of the Clarion hotel (701 8th Street, Greeley, CO 80631.) We will depart from there around 8:00 am on Saturday morning, heading for Beaman's (X6 Ranch, 21601 CR 40, La Salle, CO 80645.) You can join the Tour there at about 8:30. We will then visit Loya/Wardell Angus in Platteville, and wrap up at Walter Angus in Hudson with a lunch to follow. It should be a really fun and interesting Meeting and Tour, so please plan to join us. You can call Jeff Myers (970-276-2190) or Ty Walter (970-381-1915) with any questions or to display cattle. See you there!